What is the Core Quadrant Model?
The Core Quadrant model is a way for people to get to know their own strengths and weaknesses. It helps people understand why they relate to others the way they do; like why certain types of people are more difficult for them to get along with than others. This understanding alone can improve our interactions with all different types of people.
We are all born with core qualities, which are abilities or characteristics that come naturally to us, without need for practice or training. Examples include being organized, empathic or self-disciplined. Our strengths lie in recognizing these qualities in ourselves and making use of them in our daily lives.
As is the case with most things in life, however, our good qualities can start to work against us if they are taken too far. The natural strength of having good self-discipline can distort into rigidity or restrictiveness if it is not kept in a healthy balance. When a quality gets out of control in this way, it becomes a pitfall.
What we often need in order to balance us out and reduce the likelihood of allowing our pitfall to take over, is to find our challenge. The challenge is a characteristic which is not naturally part of our set of core qualities, but which we have to learn and work on. Our challenge is always the positive opposite of our pitfall. In the current example, the positive opposite of rigidity is flexibility. Our challenge should come alongside our quality, to support and balance it. If we are naturally good at self-discipline, then learning to be flexibly disciplined allows us to avoid our pitfall.
It is also helpful to understand that it is usually certain triggers which tend to push us overboard into our pitfalls. These triggers occur most often when we encounter people who have pitfalls which are the opposite of one of our qualities. Again using this same example, when the self-disciplined person encounters someone who has slipped into their pitfall of leniency or indulgence, it puts us off. You might say that we have an allergic reaction to such behavior. But, instead of reacting and overcompensating with too much of our own self-discipline, what we can learn to realize, is that the natural quality that the lenient person is taking too far, is in fact flexibility. When we are able to see the qualities in ourselves and each other, we can learn from each other and become more balanced.
Use the example quadrant below and answer the questions to find out what one of your core qualities, pitfalls, challenges and allergies are! Or, download the app for a more guided experience.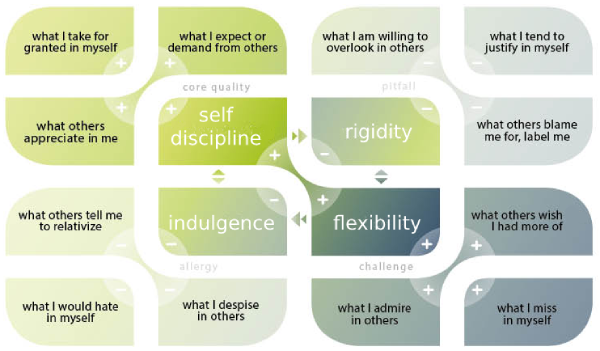 Credit: Daniel Ofman - Core Quality International